The Kiss Off (1961)

Directed by: Alan Crosland Jr.
Stars: Alfred Hitchcock, Rip Torn, Mary Munday
Language: English
Country: Usa | Ar: 4:3 | Dvdrip
Description: Ernie Walters has just been released after six years in prison. It was determined that he was falsely convicted of a gas station robbery and now wants to get even with the detective and District Attorney who convicted him. Wearing a disguise, Walters robs the local tax office but drops his hotel room key as he makes his escape. He's quickly re-arrested by the same detective who arrested him six years previously but the witnesses can't quite identify him. Will he get away with it?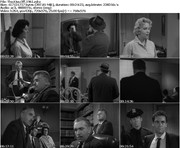 Download:
The.Kiss.Off.1961.mkv – 397.81 MB